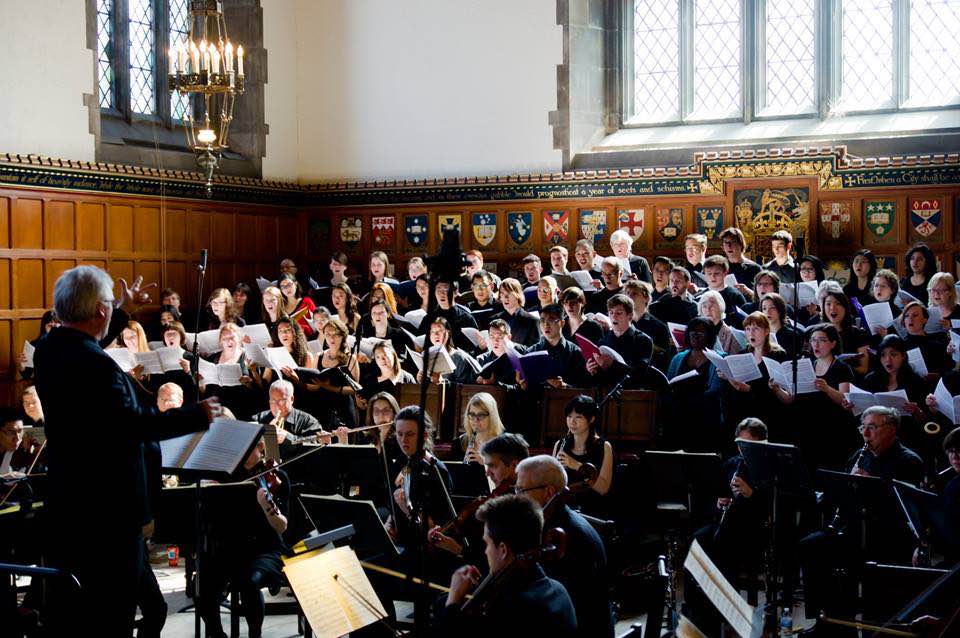 Hart House Singers
How to get Involved:
An exciting opportunity for first time and experienced singers to share the joy of choral singing within this non-auditioned choir conducted by David Arnot-Johnston. Learn the art of song, have fun and sing culturally diverse repertoire
Sign-up occurs at the beginning of each term
Winter 2019
Handel's Zadok the Priest & Gloria, Mozart's Vespers K339
Sunday, March 17, 2019. 4 pm
Winter Repertoire 2019:
Choral and solo pieces with piano quintet (repertoire is subject to change)
1. Zadok the Priest (Handel)
3. Vespers (K. 339, Mozart).

The first rehearsal of the Hart House Singers' 2019 Winter season is Mon., Jan. 7, 7:45–9:45 pm, in the Great Hall, Hart House, U of T. (dress rehearsal is Sat., Mar. 16, 10 am-1 pm.) Rehearsals in the Winter term are on Mondays, 7:45-9:45 pm, Jan. 7-Mar. 11 (except Family day, Mon., Feb. 18). Registration begins at 6:30 for the first two rehearsals. The first two rehearsals (Jan. 7 & 14) are "open rehearsals." You can try a rehearsal and decide later if you would like to join.
There is a rehearsal 3:30-5:30 pm on Sunday, March 10th, to make up for a rehearsal missed due to inclement weather in term. Check hub (front desk) for location on day.
Music Files: On google drive
The membership fees are now as follows:
–
Student/Member*
Non-Member
Over 65
Non-member
ANNUAL REGISTRATION FEE
$25
$225
$165
FALL REGISTRATION FEE
$15
$120
$90
WINTER REGISTRATION FEE
$15
$120
$90
*"Student" means any student who has paid ancillary fees s part of their academic program; "member" refers to those who also have a full Hart House fitness centre membership.
Note: There is no longer a clubs membership category instead those without a full membership (student or gym) may now join as non-members as indicated.
---
Website: hhsingers.sa.utoronto.ca/
Email: hhsingers@gmail.com
Contact Programme Advisor: rick.palidwor@utoronto.ca
---